Ancestral Pueblo of the American Southwest
Canyon de Chelly, Mesa Verde, Hovenweep, Aztec, Salmon, and Chaco Canyon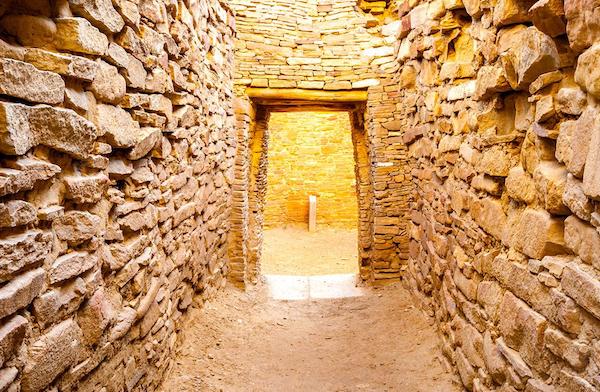 This travel course will teach participants all about the ancient Ancestral Pueblo civilization of the American Southwest. Day trips through six major ancient ruins, evening lectures and visits to modern pueblos will give the group an in-depth perspective on one of North America's most ancient and sophisticated cultures.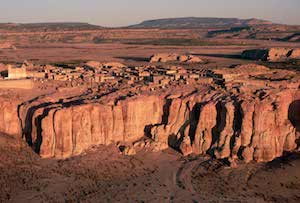 The course will begin and end in Albuquerque, New Mexico. From there, the group will first west to visit two modern pueblos - Acoma's beautiful Sky City and Zuni Pueblo. That evening they'll stay in the historic El Rancho Hotel on Route 66 in Gallup. Next, a day looping out into Arizona for a hike through Canyon de Chelly will end in Cortez, Colorado - the course's home base for the next three days.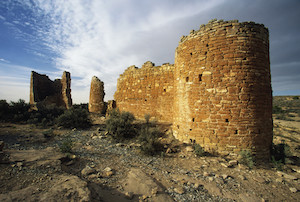 From Cortez, there will be two Four Corners area day trips - one to the ruins of Hovenweep in the southeast corner of Utah and another to the cliff dwellings of Mesa Verde. In both places, participants will learn about Pueblo architecture, religion, astronomy and how they survived the intense droughts of the 11th and 12th centuries. A lecture on the final night in Cortez will prepare the group to explore the world of Chaco Canyon.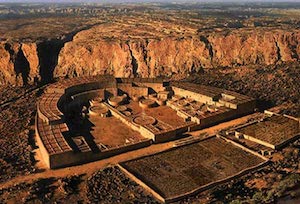 The final two days are all about the "Chaco Phenomenon", first visiting two major Chaco Outliers - Aztec Ruins and Salmon - and the next day Chaco Canyon itself. Striking out at dawn, the entire day will be spent exploring the Great Houses of Chaco Canyon, marveling at their architectural sophistication and discussing why so many aspects of the canyon remain a mystery. Back in Albuquerque that evening, the group will have a party and course closing ceremonies. For those who don't pick early morning flights out the next day, a final side trip will let participants play with the interactive Sun Dagger model at the Natural History Museum.
---
For people with an interest in...
History, archaeology, anthropology, astronomy, mythology, native art, ceramics and other related science and social sciences fields.
Prerequisites
While not required, participants are encouraged to have at least some knowledge of Ancestral Pueblo history and archaeology. Dr. Ed Barnhart can recommend readings for those interested in learning more before the trip. Day trips will involve hiking in hot, dry weather. Nights will be cool, but day temperatures will be in the 90's. While it will not be physically challenging, participants in weak physical condition are encouraged to build strength and stamina before the trip.
---
Costs
$2500 per person (double room lodging)
Add $500 for single room lodging supplement
Flights
Participants are responsible for arranging their own flight reservations to and from Albuquerque, New Mexico. Since participants come from all over the country, recommending a single flight is impossible. As of December 2017, round trip flights from various places in the US are less than $300 on average. Driving into Albuquerque is also an option. The airport has secure parking for the week at good prices and taxis to reach the hotel.
Hotels During the Course
Albuquerque - Best Western Rio Grande in Old Town - walking distance to the history center of town
Gallup - El Rancho Hotel - a funky, historic hotel on Route 66
Cortez - Best Western Turquoise Inn - central location in Cortez
Farmington - The Region Inn - comfortable place, good breakfast, launching point for Chaco Canyon
Included
Lodging, transportation – including private ground transportation, breakfasts, all entry fees, professional guides in certain restricted locations and evening lectures. Digital copies of the presentations given during the course will be provided upon request.
Not Included
Airfare to/from Albuquerque, airport transfers to and from hotel in Albuquerque, lunches, dinners, and gratuities.
How to register for the tour
To secure a place in the course, a $500 deposit to Ancient Explorations is required. The course is limited to 25 participants. Balance payments will be due in two installements - 50% due at 90 days before the course on April 9th and the remaining 50% due at 30 days before the course on June 9th.
You must also fill out the registration form (PDF) and email it to Ancient Explorations at info@ancientexploration.com. Or if you prefer, send a printed out copy to the address below.
---
Pay by check
Please send your deposit by check made out to
Ancient Explorations
to:
Ancient Explorations
3267 Bee Caves Rd
Suite 107-161
Austin, TX 78746
Pay with PayPal